7: Katyayani Shakti Peeth: Receptivity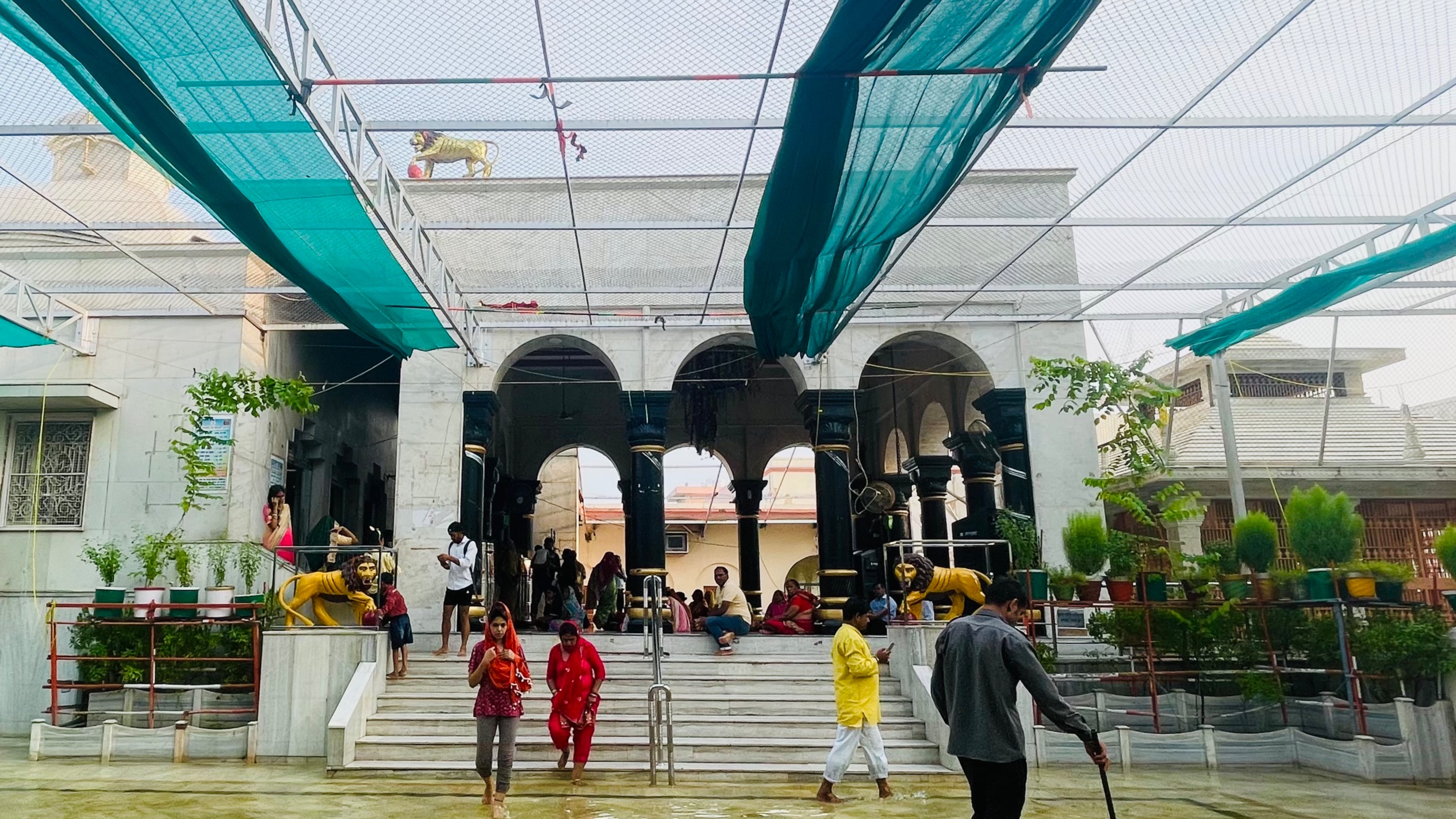 Vrindavan, Uttar Pradesh, India
Radhe Radhe! Upon entering Vrindavan, these are the words you hear more than anything else. Vrindavan is located in India's most populous state of Uttar Pradesh. The town is famous for being the place Lord Krishna grew up in after being born a short distance away in Mathura. He ends up in Vrindavan as infant in classic turn of events that is the interminable battle of good against evil. As a young man he would dance all night long in a famous garden here with his beloved Radha. She is an incarnation of Laximi as the embodiment of unconditional devotional love and compassion.
Radhe Radhe is what people say here when they are happy. When they are helpless. Overwhelmed. When they feel blessed. After cheating death. When being grateful. This is how I hear it used in the course of one day here. There is something so soothing about invoking the Devi in this quality that is the transmission of sweet love through Radha. It is powerful enough for me to retire a longstanding personal favorite four letter "F" bomb that I tend to turn to a bit too much. As much it helps take the edge off, discharge a little frustration, it does nothing for the feeling of being trapped or having zero control. The ethos of Radhe Radhe is relaxing. I feel it as a release in my heart and my belly, which tend to tighten up when I am stressed. The effects of uttering Radhe Radhe is more magic, than a mystery I want to solve. Its incantation liberates breath from suffocation. A liberation from the resistance to what "is" and detachment from how it "should" be. Radhe Radhe.
Vrindavan is also home to Katyayani Shakti Peeth. It is here that Devi Sati's hair fell along the banks of the Yamuna River. The locals will tell you it is one of the most ancient sites in Vrindavan. It is also one of the more universally accepted Shakti Peeths. The temple is home to the Devi as Uma, which means splendor and tranquility. After Sati left, the Mahadevi returns to Lord Shiva as Uma, the daughter of the Himalayan King Himavan. Uma and Katyayani are synonymous with Goddess Parvati who is today more commonly remembered as Lord Shiva's wife, while Sati is practically forgotten. All are Shakti expressed in one of infinite forms. Here, Lord Shiva remains by her side in the form of the Bhairava Bhutesha, Lord of Living Beings.
Getting to Vrindivan from Delhi is a cake walk compared to all the other pilgrimages so far. It takes just under 3 hours along a comfortable traffic free highway. The town is filled with thousands of devotees all the time, who are making their way to any of the 5000 temples that have a home here. Today, getting to any of these places is complicated by the arrival of Uttar Pradesh's Chief Minister Yogi Baba who is inaugurating the advancement of cancer care for the city, which just received its first PET CT machine. Security measures are at Def Con 5. Something noticeably different is happening with me today. I do not feel exasperated at the time lost in trying to get around. I am also a little less critical over the absence of PET CT scan, which has been around for 40 years and in India for 20. Less critical that access to innovation takes forever while perpetuating avoidable suffering. A sense urgency around needing things to be better generally kicks in, but not today in the usual way. The truth is, I struggle to stay connected with pain. I want to fix it fast, to avoid feeling it. I do not really know how to feel the pain our wounds communicate completely. To accept pain as part of life. To do so lovingly. There is no real compassion without really experiencing this pain for ourselves.
Critical natures play an important role in our collective evolution. They drive change by recognizing what is not working in a situation. I do not think there is anything wrong with being critical as long as it is not weaponized to deflect meaningful actions of change. In my case, being critical is part change agent and part covert operative. It helps me avoid feeling uncomfortable, which is not the best use for it even if it has good intentions of trying to make a bad situation better. Something is shifting while waiting over an hour behind a police barricade in this quirky 4 seater rickshaw whizzing my cousin and I through a web of cobblestone gullies that is the heart of town. The gully route turns out to be a futile attempt to avoid all the other blocked off roadways in Vrindavan. We are halted into a dead stop. Mercifully protected by the shade of tall walls that make up the homes surrounding us on this hot humid sunny July day. India's notorious summers living up to reputation.
As time passes and movement ceases, the empty space around us is rapidly consumed with a circus of monkeys, a few random cows, and bikes carting goods stacked too high and too wide. Monkeys are trained pickpockets here. We are told to put away the phones and sunglasses. Kind of brilliant loop hole to the justice system I shamefully admire. Throngs of people doing the same thing we are fill in the remainder millimeters of available space in what is barely a 6 foot wide passage. It happens in minutes. Radhe Radhe. The overwhelm of everything that is wrong with the world could easily crowd into the nonexistent walls of the rickshaw. So easy to just blame Yogi Baba for it all. Instead, this is replaced with a sense of relief that progress is being made after all. At least there is a PET CT in Vrindavan now and its been blessed, so hopefully it stays working. The time it has taken to get this far is less of a judgement and more of a reflection of our collective capacity than the failings of some individual. The edge around expectations, around the rate of change softens. Radhe Radhe.
Eventually, the barricades opened and the pressure of the various bottle necks explode in a frenzy of life on the once empty road faster than I can blink. Radhe Radhe, says our Rickshaw Wala, as he presses the accelerator of our electrical chariot. The time lost is time saved to me. It would take all day to find the temple on our own given how unreliable Google maps is in this part of the world. When we arrive at Katyayani, we are a bit off from the three potential pins I found. The photos do turn out to be real at least. I am not excited by the hype of Chat GPT buzzing around right now. So much of the internet is an exercise of inaccuracy. It's been a difficult lesson lately, while researching this trip. Maya-net seems like a more accurate name for what the internet has become. Chat GPt is like gasoline on the fire of ignorance. Not sure what will be left standing after it burns. Radhe Radhe.
The temple grounds maybe among the oldest in this ancient city, but its current marble structure was built about 100 years ago. Yogiraj Swami Keshvanand Bramachari rediscovered this site after the Devi came to him. She described this place, its significance and asked him to rebuild a temple for her worship. This became his life's mission from then. Katyayani Devi plays an important role in the mythos of Vrindivan. It is Lord Vishnu who turns to her for protection before he incarnates as Lord Krishna. Krishna's uncle Kansa murders six of his mother's first children out of fear that one would end him. The Devi takes Krishna's place once he is born and sets him free to be raised in Vrindivan as an infant by cow herders. Lord Krishna turns to Katyayani Devi again for her blessing before he kills Kansa. It is also Katyayani Devi that Radha turns to when she prays for her soul mate. Even today devotees come to this temple praying for their ideal partner to show up.
The temple is found just past a dirt field with a few isolated trees inviting the cows to take refuge from the sun's rays. It stays hidden from view behind a large wall with long narrow passageway that leads to another clearing. Today the Yamuna River is overflowing from its banks, just into an older structure where merchants sell the ritual offerings of coconut, puffed rice, marigolds, and red chunnis (scarves) to pilgrims for the Devi's worship. The overflow ends at the Devi's steps. It hits the beginning of my calves while standing tip toe and hoping not slip as I sound her bells. Everyone announces their arrival with this bell. Two of her golden lions greet me past a marble courtyard, which has been converted into a wading pool baptizing everyone visiting today. Her sanctum remains dry. She is perched above this mot receiving everyone above some steps under her stone canopy.
Faith transcends the realm of idea to physical experience as it radiates through the hearts of the devotees here. The temple bells are busy. Sati's story is seen carved into the marbled walls for those to read while they circumambulate outside of the inner sanctum before arriving in front of her idol. One by one, each of us kneel before her, bow to her feet, leave our gifts and receive her prasad. She is the center of everyone's focus but her Bhairava remains near though easily missed. Like Radha, men and women gather in front of her, sit on the ground, hands folded in prayer, and eyes closed. They sing her praises in song after song. Each coming to her with their concerns, fears and longings. She is sensitive to them all. Her eyes piercing through me while simultaneously receptive. It is peaceful here. There is splendor. It is the embodiment of Uma beyond words. From the moment I stepped into Vrindavan, I have been steeped in this quality of receptivity and acceptance to what is. It is the aspect of the Sacred Feminine, which Katyayani Devi transmits well before arriving at her feet. She magically offers her gifts without asking. How amazing? I am in awe. Radhe Radhe!
Next time…Off to Jammu & Kashmir to Vaishno Devi.